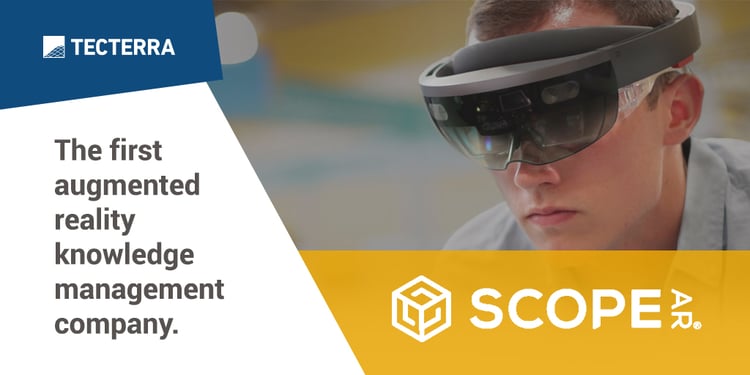 Scope AR began as an idea in Edmonton in 2011 and has seen spectacular growth over the years, becoming the first augmented reality knowledge management company and a global leader in the industry.
And David Nedohin, the company's President and a founder, says it is poised for even more significant growth in the near future.
"We've grown in a number of ways. One is the employee size, the company size. In the last few years, we've doubled or tripled to about 40 full time employees right now. Probably two years ago we were 12. So we've grown quite a bit that way," he says.
"We've also been able to raise some capital that's allowed us to grow. We closed a round for about $10 million a few months ago. And from the customer standpoint, of course, our customers are growing very nicely. We really focus heavily in aerospace and manufacturing. Also for our products, since we launched them in 2015, we continue to enhance them. We're continuing to be a pioneer in driving the industry in terms of the technology of our products."
Customers are in North America, Europe and the UK.
Nedohin says the company's growth is really driven by the customer adoption of technologies which has proven right now to be in a stage where the customers are not just trying technology but they are being driven by their business units who are saying they need to solve problems.
"I think we're at that stage where things are really taking off from the customer standpoint because they're going to be successful and see a positive benefit. I think over the next year to two years in terms of our own growth it will be significant from a customer perspective," he says.
"Obviously products are going to continue to evolve. We're going to do a lot of really cool things with those but the customers themselves are growing just leaps and bounds right now in terms of new ones but also growth within those companies. We're right at a point that's going to see massive growth for the industry at large, not just us, over the next couple of years."
Today, the company's head office is in Edmonton with an office as well in San Francisco which opened in 2015.
"We were a group of three entrepreneurs that were sort of connected through different opportunities in Edmonton and when we first started the company we knew we were going to do something around augmented reality but not really sure exactly what. We were exploring different channels with that and we had a connection to an industrial client . . . who asked if we could actually build some sort of guided instructions to show how to do maintenance on a piece of equipment for a big trade show that had never been done before. But we thought let's give it a try," says Nedohin.
"That was kind of our introduction to the industry as really being our primary focus which it is now."
Nedohin says from that initial focus of the business it has moved into developing products that it could licence to its customers. One direction is around guided instruction and one is around remote report.
Scope AR is the pioneer of enterprise-class augmented reality solutions, delivering the industry's only cross-platform AR tools for getting workers the knowledge they need, when they need it. The company is revolutionizing the way enterprises work and collaborate by offering an integrated AR platform that provides more effective and efficient knowledge-sharing to conduct complex remote tasks, employee training, product and equipment assembly, maintenance and repair, field and customer support,
The company's device-agnostic technology supports smartphones, tablets and wearables, making it easy for leading organizations like Boeing, Toyota, Lockheed Martin, Honeywell, Assa Abloy, GE and others to quickly scale their use of AR to any remote worker.
Scope AR is partners with technology leaders such as Google and Microsoft.
Besides the aerospace and manufacturing industries, Scope AR has also been focused on working with customers in automotive and utilities.
Recently at the Augmented World Expo 2019 (AWE) Scope AR launched an upgraded version of its highly-touted WorkLink platform. With the addition of session recording, WorkLink becomes the industry's only AR knowledge platform to offer real-time remote support, access to AR work instructions and the ability to record sessions simultaneously in one application. With this, workers can now easily capture, retain and share knowledge like never before.
Scope AR also announced new enterprise customer, medical device manufacturer Becton Dickinson, as well as expanded use of its integrated AR platform with Lockheed Martin.
"We started in Edmonton. This is a company that's grown here. We are without question the global leaders in terms of augmented reality for the industrial space which is a pretty cool story and the technology is here and now," says Nedohin. "A lot of people think of it as something that's in the future. It's not. We have customers proving that in very significant ways and so it's just a matter of finding the right use cases and applying it in the right way and that's what we're here to help with."