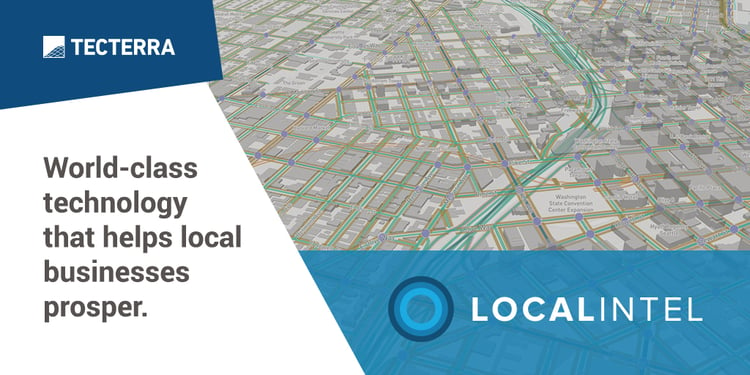 Calgary-based Localintel was founded on a very simple idea - every community, regardless of size, should have the opportunity to access world-class technology that helps local businesses prosper.
That was the basis behind the establishment of the company which helps communities utilize innovative technology and tools for their needs in attracting business as well as helping existing business expand and grow.
In early 2016 co-founders Dave Parsell, who is CEO, and Mehdi Amoui, who is CTO, observed that most communities lacked the time and budget to harness the power of the internet to support local business growth. They set out to change this.
"I observed that economic development was fast becoming a real priority for local governments," says Parsell. "Local governments and municipalities doing what they can to help existing businesses survive and thrive and attracting new businesses to help the local economy. It's becoming a bigger and bigger deal.
"I also realized that the internet - the web - was becoming one of the most powerful tools that big and small communities had to help with their economic development but I also recognized that doing anything online is very time consuming, very expensive and most communities don't have the budget of Calgary Economic Development. In fact, they have very little money, very little time and quite often very little expertise around harnessing the internet to help with their local economic development efforts.
"So I just thought there had to be an easier, simple way that we could use the latest technology to help communities of any size, not just the big ones, but even the smallest ones . . . to afford and to be able to harness the internet to help support local business growth."
Parsell hooked up with Amoui to establish Localintel. By the end of 2016, the company launched its first catalogue of tools and today it is working with clients across six provinces and 18 U.S. states. It has offices in Calgary, Seattle and Philadelphia.
There is a catalogue of tools that communities can use but what also sets Localintel apart is its ability to customize and localize those off-the-shelf tools in a very efficient way.
"We're not a website building company. We're not a data company. We are this technology company that has these tools that can be localized and to a certain extent customized to a client's need. That's where the technology secret sauce comes in - or special sauce comes in," says Parsell.
Clients vary in size from the village of Cremona in rural Alberta with 400 people through to Calgary Economic Development, Edmonton Economic Development, Red Deer, Lethbridge, North Vancouver, London, Kingston, Seattle, New Orleans, Indianapolis, Cleveland, Beverly Hills, Miami Beach.
"I've given you some fancy names but most of our clients are small, rural communities that ordinarily would never have a hope in whatever in having this technology to help support their local business growth and that's what we're most proud of," says Parsell.
"We're just kicking off. We're still learning. We're growing fast. But not fast enough. We still feel as though we're still muddling through and have so much to do."
The technology is also being used in Australia.
Moving forward, the company believes there's still a lot of potential in Canada. For example, in Alberta Localintel's combined population of all its clients is about 75 per cent of the entire population in the province. Clients include four of the five biggest communities and the company sees potential in more of the smaller communities.
"There's still a lot of potential elsewhere in Canada but the real growth market, the real huge market, is the U.S. There's 45,000 Chambers of Commerce, municipalities, counties, down there. We have clients in 18 of those states and we've only really been pushing hard down there for a year and a half," says Parsell.
"And each one of those states is a unique market. They don't really care what you've done in the state next door or the fact that you work in Seattle and New Orleans. To break into that many states in that short a time has been an amazing learning curve for us and we're doing pretty well. We're going to continue to grow our Canadian market but the big prize and the big market is the U.S."