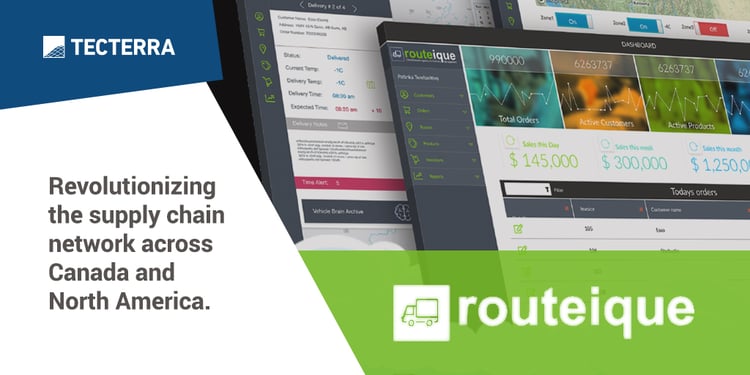 Routeique, a cloud-based technology company, is revolutionizing the supply chain network across Canada and North America. Mike Allan, founder and president of Routeique, says the company is focused on developing end to end logistics solutions for every step of the supply chain.
"Our tagline is we make supply chains seamless. What we really do is we connect all of the partners in the supply chain. So right from where products are made, manufacturers or if they're imported, all the way down through that entire network that handles the product from warehouses to transportation companies through to in most cases it's the retailer who sells it to us. In some cases, it's directly to the consumer themselves in case of home delivery," says Allan.
"It's basically connecting up all the partners in the supply chain and effectively making them act as one unit without having to own all of those different transportation and warehousing and supply chain partners. You can behave as one big network sort of in the style of an Amazon or someone like that where you know where all your vehicles are, you know where all your product is, you know what's on what truck and how much."
Allan says Routeique helps companies improve the visibility of their supply chains by having all the data flowing smoothly through one central conduit regardless if it's a massive worldwide retailer or a massive worldwide manufacturer or just a small mom and pop shop.
The company was incorporated in August 2016 and its headquarters are in Calgary with about 30 employees.
"We have a number of components to the software, and hardware actually. We have an administrative console that kind of runs the whole back office for distribution and warehousing firms. We have a settlement portal that would be used for our largest manufacturing customers so they can sit in this digital control tower room and watch what's happening in the whole country or around the whole world potentially," says Allan.
"We also have a couple of mobile apps. We have what's called the Driver Management System and that's for drivers and people in the field. And then we have the Inventory Management System that's essentially a warehouse and inventory management app that you use to do picking, packing, receiving, that sort of thing. Those two are mobile apps that can run on phones and tablets. In addition to that we have an Internet of Things vehicle brain. That's a little on-board computer with a bunch of sensors that monitors vehicles in transit as well.
"Between all those components, all of that data flows to us."
Routeique is an integrated solution for connecting manufacturers, distributors and retailers and it brings companies the functionality of their office anywhere. With a simple swipe, drivers or reps are able to view an optimized route, create and send mobile invoices, capture signatures, and more. Warehouse personnel can utilize the mobile or desktop to better manage the receiving of deliveries and the prepping orders to be sent out. The office team can manage everything from their administrative portal, including an overview of other areas of the business. Routeique can be used on any internet-connected Android or IOS device or from a desktop computer, making us the perfect solution for the office or on the go.
"We can really work in almost any industry delivering goods but our biggest by far category is food service. It's delivering products to convenience stores, grocery stores, gas stations, and restaurants," says Allan.
"And our customers range from the world's largest food service manufacturer, the world's largest dairy, the world's largest soft drink company all the way down to as small as three to five trucks as a transportation company. Those big companies can't have large partners everywhere, so they need little regional partners. The bulk of our business is these massive manufacturers and some big retailers as well."
Routeique has clients across North America, including Australia, and the UK. Other countries as well have been expressing interest in its services. Partnerships are also being developed in other parts of the world.
"We definitely don't see our future only within Canada. It's a great market but it's not a very large one. So we want to get to worldwide scale. That's what we've been working towards. We really only started marketing outside of Canada in January," adds Allan.