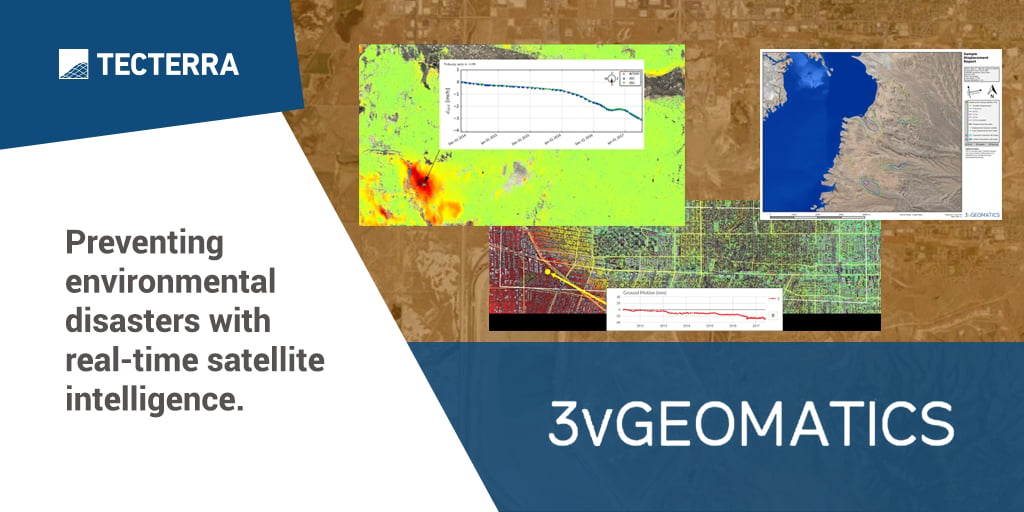 Vancouver-based 3vGeomatics was founded in 2007 with a mission to make a certain satellite technology easily accessible and useful for a broad base of users.
The company, which has seen tremendous growth since then, specializes in Interferometric Synthetic Aperture Radar (InSAR) - using radar satellite images to detect and measure ground and infrastructure displacement across large areas.
Adrian McCardle, the company's President, says its technology informs clients of subsidence, uplift and other movements to help prevent environmental accidents, improve safety, and maintain operational success.
"We thought the market was under-served with the type of displacement monitoring that our tech brings. That's how we came about," says McCardle. Today, the company has 50 employees, most of them in Vancouver but one in Calgary and one in Brazil.
"We've been focused a lot on serving under-served areas of the market. We're not really going after areas where our competitors were established. For example, we really developed the mining industry and products that can really respond quickly to help prevent disasters. That's been a real strength, expanding that to pipelines and traditional oil and gas production areas."
McCardle says that when the company was founded InSAR results were delivered infrequently, based on images collected months prior, and applicable only in ideal conditions. The company listened to customer requirements and invested heavily in research and development to improve the automation and scalability of InSAR.
The company is now providing near real-time information based on satellite images acquired just hours earlier and that provides actionable intelligence for companies that they need to have to help prevent environmental disasters and even save lives.
"We use radar satellite data to monitor millimetre level displacements across very large areas. For example, that might be a landslide in North Vancouver or along the highway or it could be a new subway station or a light rail station like in Calgary. We can monitor an area that has new construction taking place and we can provide extremely high detail over very large areas," says McCardle.
"Safety is probably the biggest reason we're used. You can detect a landslide or a geohazard very early so you have time to mitigate for that. In a mining context, we can look over the whole mine and we can see tiny little movements so the mining company can change the way they're depositing their tailings and avoid a failure or they can at least prepare for a failure. We can detect things very early on."
The company says displacement is the cornerstone of almost all of 3vG's business and most of its products are intended to assess stability, communicate movement, and provide displacement histories. Its ongoing monitoring program is designed to provide clients with actionable intelligence that allows them to mitigate risk. 3vG's InSAR services programs monitor clients' vital assets such as tailings dams, pipeline right of ways, and bridges, as well as critical slopes for creep and landslide detection.
It says one of its flagship products is the Rapid Report. These near real-time displacement reports typically service clients who need immediate alerts to new and/or accelerating geohazards. InSAR analyses are based on comparing the latest satellite image acquisition with other recently acquired images. It says results are generally displayed as spatial data (color-coded contours) that indicate the magnitude, location, and extent of all identified motion areas. They are delivered within 24 hours of 3vG receiving each new satellite image. Rapid Reports can also be used for non-displacement data, such as coherence analyses or waterbody monitoring.
McCardle says he sees the company continuing to grow in the mining and midstream sectors but it is also pressing more into civil and urban monitoring - railways, highways, cities and new buildings.
Today, the company's focus is on the midstream and mining sectors.
"We're everywhere. We do a little bit in Canada, mostly in the U.S. and South America. We do quite a bit in Australia and Asia, but mostly export outside of Canada," says McCardle.
"We're growing fast and having a lot of fun doing it."