Calgary-based Ingu Solutions, a technology company, is disrupting the pipeline inspection industry with its unique Pipers screening tool.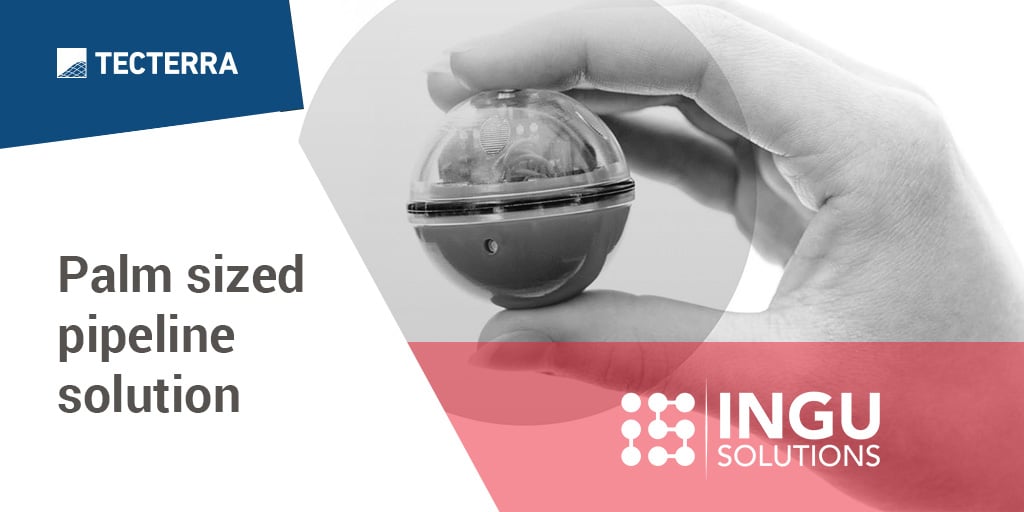 The tool, which was launched in 2018 is a miniaturized mobile sensor, detects leaks, geometric defects, magnetic anomalies, and deposits. The self-service business model reduces inspection costs while strengthening preventive maintenance. INGU enables integrity assessment in unpiggable pipelines, while disrupting alternatives costing an order of magnitude more in other pipelines.
"We went from trials to commercial release in 18 months, and not even two years later, we have screened well over 100 operational pipelines for more than 30 operators. Our clients are excited and are already starting to integrate Pipers into their integrity programs," says John van Pol, CEO of INGU. "We're fortunate that our investors share our vision for the future, bringing with them a strategic network and industry expertise to help us deliver results and scale fast enough to meet market demand."
INGU was founded in 2014. The company today has 12 employees.
It provides oil and gas companies with immediate and affordable access to pipeline assets even in the most challenging conditions. This revolutionary technology uses miniaturized inline
Sensors to detect leaks, geometric defects, magnetic anomalies, and deposits that threaten pipeline performance and safety with zero-downtime, says van Pol.
Pipers eliminate the need for human intervention, reducing inspection costs, and strengthening preventive maintenance.
He says the Pipers can capture all the data from a pipeline.
"We currently service North America and it's about a 50-50 split between Canada and the U.S.," says van Pol.
"The bottom line was the company started after a request from the oil and gas industry. Our focus is on unpiggable pipelines. These are pipelines that cannot be inspected with traditional tools that are out there. The market was ready for a new technology for a solution that covered those pipelines. We're talking about 40 per cent of the pipelines or about a million miles. So there's an extensive piece of the infrastructure that couldn't be inspected."
At the time, van Pol was looking into microsensing and how it could be applied to a traditional environment and this was an opportunity that came about for the company.
The company did a lot of trials with Chevron initially in 2017 with the Pipers and in early 2018 it did its first operational pipeline with Crescent Point and since then it has done about 125 operational pipelines.
The company has received global recognition throughout the years. In 2019, INGU was recognized as an Innovation Pioneer by CERAWeek, selected by Forbes as one of the 19 Innovative Tech Startups To Watch (out of 3,000 worldwide), and named "Best in Show" at the SPE Startup Village. INGU was also among the first companies participating in Chevron's Catalyst program which it completed successfully in 2019. The Catalyst Program was started by Chevron Technology Ventures to accelerate the development of early-stage companies working on technologies that can directly benefit the energy industry.
The company closed a financing round at the end of October raising growth capital from Energy Innovation Capital and Chevron Technology Ventures. The funding round will enable INGU to grow its team, scale its data collection platform and analysis, and expand its global presence.
"That gives us the growth capital to take the next step," says van Pol.
"We essentially want to be the standard tool to screen this section of unpiggable pipeline."
The company says Pipers are an affordable and easy-to-deploy screening tool that identifies risks and performance issues in pipelines. They fit in every diameter and condition of pipeline, and are especially suitable for small-diameter pipelines (eight inch and below). They detect and locate leaks, defects, magnetic features, and restrictions in all pipelines — with no interruption of service.
"Pipers provide the oil and gas industry invaluable insights in their pipeline assets leading to increased performance and safety while reducing costs. We're excited to support INGU in scaling the business globally," says George Coyle, Managing Partner at Energy Innovation Capital. Ben Abadi, a Managing Director at Energy Innovation Capital, joined the INGU board of directors in connection with the recent transaction.