OpenHouse.ai Disrupts the Homebuilding Industry and Wins Start-up of the Year
Buying a house is one of life's biggest decisions. The choice is based on a matrix of practical and emotional factors. No two home buyers are alike. Price, neighbourhood, square footage, nearby schools, even the colour of the kitchen cabinets, are all elements that prospective buyers value in different ways. The success of a homebuilder hinges on the ability to anticipate what priorities will drive the next purchase and the next market trend. Figuring out what kind of homes to build and where to build them are make-or-break business decisions for the industry.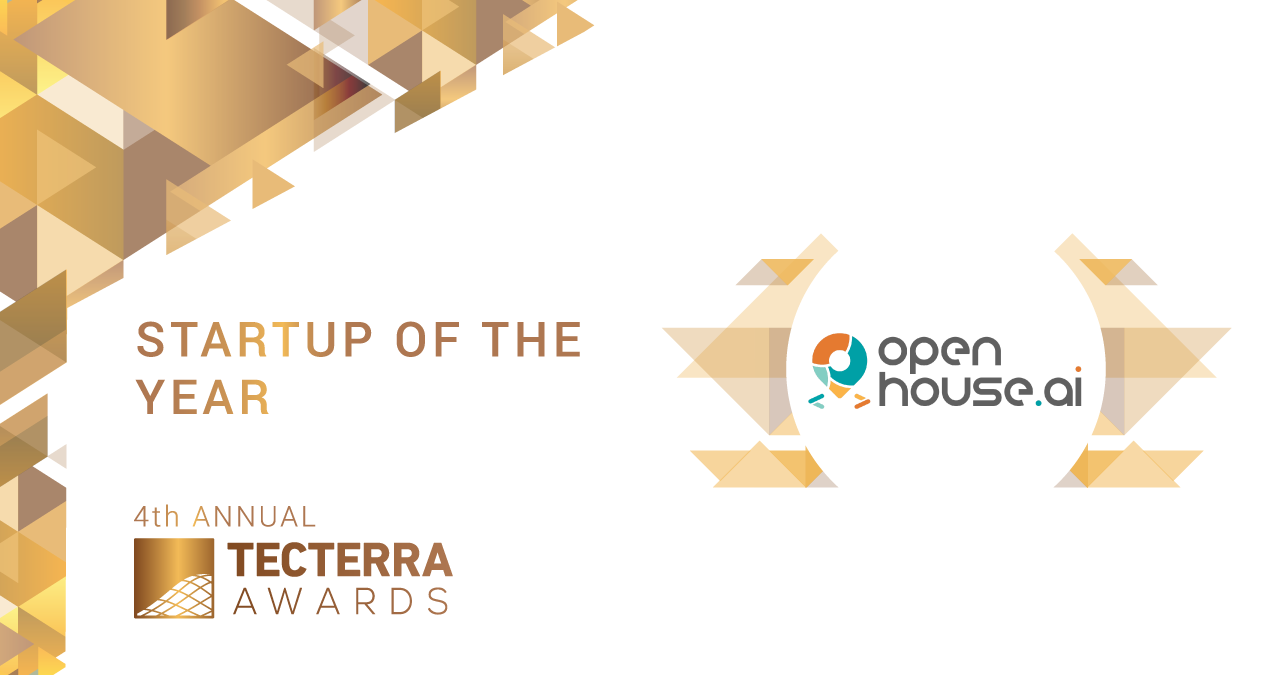 OpenHouse.ai, winner of TECTERRA's 2021 Startup of the Year award, has developed a SaaS solution that harnesses machine learning and geospatial technology to provide homebuilders with real-time data on what home buyers want and need so they can make those critical decisions with confidence. "We are to the homebuilding industry what Netflix was to Hollywood," said Will Zhang, co-founder and CEO of OpenHouse.ai. Netflix makes some of the industry's best content today because they know what their customers want from one moment to the next. They have instant feedback on the most watched programs, which then informs what movies or series to invest in next. "There is no reason why the homebuilding industry should not have the same access to information," Zhang said.
The OpenHouse.ai team, 13 members and growing, occupy an office next to the Southern Alberta Institute of Technology in Calgary's northwest and have developed an AI algorithm that personalizes the home buying experience and integrates seamlessly with any homebuilder's online catalogue system. OpenHouse's innovative bolt-on solution learns the needs and preferences of each website visitor and constantly improves on the experience by surfacing the right homes for the right buyer. "Everyone gets a unique experience and we help home builders to learn about their customers with every single click," Zhang said.
Before starting OpenHouse.ai in 2018, Zhang worked in R&D and technology for major companies in established fields, such as telecommunications, finance, and oil and gas. He saw how advanced tech, like AI and machine learning, could transform an industry by optimizing both operational and strategic decision-making. He also recognized that even though smaller companies would reap the rewards of implementing these powerful new tools, they couldn't afford to apply them.
In 2018, Zhang met a homebuilder at a start-up event in Calgary and learned about the inner-workings of that industry. "We can make a difference here," he said to the builder. "I think we can combine geospatial technology and machine learning together to help homebuilders to make better decisions and to answer the questions what home should I build, and when and where."
The idea gained momentum as Zhang learned more about the housing shortage in Canada and the United States. House prices have been on a meteoric trajectory in North America because the supply of new homes has not kept pace with the needs of a growing population. The dream of home ownership has become out of reach for an increasing number of Canadians and Americans. "The reasons for starting the company became even more meaningful for us when we realized that there is a housing supply gap that has built up over the last 10 years," Zhang said. "There are just not enough homes to meet the market demand." OpenHouse.ai was created with a simple but potent premise: help builders de-risk their operational decisions in new home construction by using technology. The new tool could help customers find new homes faster, help builders to build the right home in the right place, and ultimately improve the supply side efficiency to meet the market demand.
Winning Startup of the Year at the 2021 TECTERRA Awards is an immense honour for OpenHouse.ai, said Zhang. "That is a huge recognition and gives us a lot more confidence to further develop new technologies using geomatics systems." He explained that the award is particularly meaningful because of the role TECTERRA played in developing the OpenHouse.ai algorithm. Zhang and his team initially built the technology to run on behavioural patterns, as in the choices and preferences of people navigating an online home catalogue. Funding from TECTERRA, as well expertise from the technology organization, helped the OpenHouse.ai team capitalize on the potential of geospatial technology. "There is a mantra in the real estate industry: location, location, location," Zhang said. "We were able to prove that combining location intelligence and machine learning technologies can further enhance our capability."
Today, the OpenHouse.ai platform is operating in 20 cities and major metropolitan areas for some of the top homebuilders on the continent. The personalization of the online experience for each potential buyer has increased the average sales velocity for these companies from 15 days to 12 days. OpenHouse.ai has also increased the conversion of website visits to sales leads by more than 40 per cent. These incremental improvements represent significant gains for clients in an industry that performs more than $300 billion in annual transactions.
The potential benefits and applications of OpenHouse.ai technology increase as the algorithm is deployed in more and more places and learns from more and more prospective home buyers. "We realized we're actually starting to be able to make predictions about the demand and preferences for each local market," Zhang said. So not only can OpenHouse.ai inform builders on what people want in new homes today, this Calgary-based start-up can predict what people will want in the homes of tomorrow.