University of Calgary Geomatics Professor Wins 2021 Woman of Impact Award
Dr. Xin Wang, a professor of geomatics engineering at the University of Calgary, was thrilled but also surprised to discover she won the 2021 Woman of Impact award. It was late September, and she had just finished teaching her morning class when she received a congratulatory email from a colleague.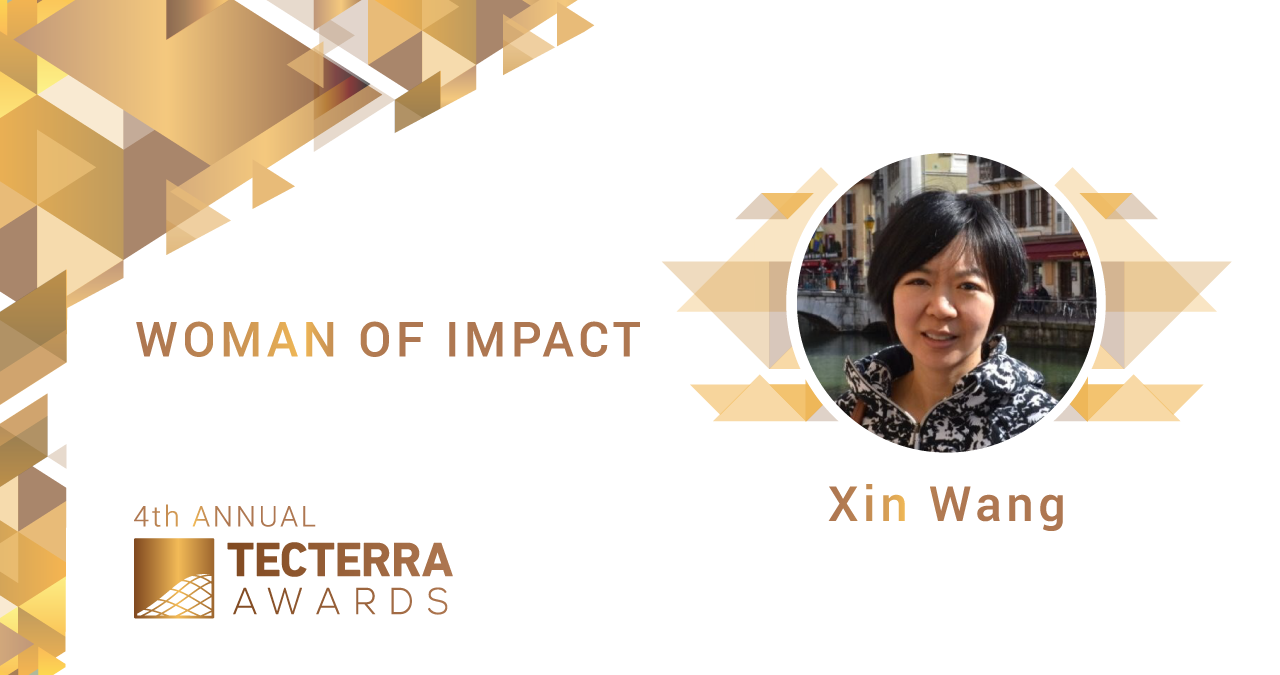 Wang explained how her first reaction was surprise because she was familiar with TECTERRA as a technology innovation support centre for the industry in Canada. As an academic, as someone who worked at a university, she didn't think she was a likely contender for the award. But that's part of what makes the geospatial industry unique, that ongoing overlap between research, innovation and the application of new ideas and tools to solve real-world problems. The line between academia and industry is flexible and dynamic. "I'm very happy to be recognized for my contribution to geomatics research and development, but also how that research and work contributes to industry," Wang said.
The professor and her team at the Intelligent Geospatial Data Mining Lab have developed novel data mining methods and systems to solve problems in the transportation, healthcare, environment, and energy sectors. Wang has published more than 100 papers in prestigious academic journals and served as the director of the Esri Canada GIS Centres of Excellence at the University of Calgary as well as an executive for the Canadian AI Association. She also regularly works with small- and medium-sized companies that may not have the resources for an in-house research and development team.
One of the ambitious projects on her plate these days involves figuring out how to apply AI to improve the way trucks move through the city of Calgary. The project, which is funded by the National Research Council, has two main components. Wang and her team are developing new tools to help truck drivers safely navigate the city during extreme weather events, such as winter storms or spring floods. They're utilizing a vast inventory of truck GPS trajectory data from the American Transportation Research Institute, and traffic volume and speed data collected by the city to improve the efficiency of delivery trucks on Calgary's road networks.
"From the vast amount of truck GPS trajectories, we know which roads they're taking and under what kinds of weather conditions. We can also predict the volume of the trucks moving around the city, and their speed on the roads. " Wang said. "So we try to learn the patterns from that data and then out of that we develop the new AI technologies to hopefully reduce the traffic volume and also emissions."
Encouraging more women to pursue careers in science and technology is another big priority for Wang. She volunteers for several organizations and events, like the Women in Engineering Day at the University of Calgary. She was also the keynote speaker for Women in Data Science in 2018 and 2019 and gave the keynote address at the AI4Youth Canada conference in 2019. "I'm very passionate about promoting geomatics to women and girls," Wang said.
When Wang first joined the geomatics department in 2007, Elizabeth Cannon was the dean of the Schulich School of Engineering. "I would sometimes meet her in the hallway and always admired her," Wang said. A few years later and Cannon went on to become the first female president of the University of Calgary.
A closer and more direct source of inspiration was Danielle Marceau. The late University of Calgary geomatics professor was recognized as a world leader in the field of environmental geocomputation. "She was my mentor after I joined the department," Wang said. "She guided me and gave me lots of good suggestions. We would have lunch and coffee together and check in with each other." Wang is continuing that tradition of mentorship for the next generation of women pursuing careers in the rapidly evolving field of geomatics. Both of the post-doctoral fellows who work with her at the Intelligent Geospatial Data Mining Lab are women.
With a background in computer science and software engineering, Wang kind of stumbled into geomatics as a career path. She was looking for a topic for a research paper as a Ph.D. student at the University of Regina when her supervisor suggested she try studying spatial clustering.
"If you look at all these data sets, they're numbers. But somehow, we can plot them on a map. When it's plotted on a map, it starts to show some of the patterns," Wang said. She realized almost all types of data have spatial features, whether you're looking at transportation, energy, social media, or even healthcare. Computer science had always been interesting, but being in geomatics engineering makes her explore more real-world applications. "So that's why I entered this field and I'm still fascinated by all the things I can do," Wang said.