We want to congratulate the 2021 TECTERRA Awards Short-List Finalists! The TECTERRA Awards were developed to create a platform to celebrate the leaders and technological disruptions in geospatial, and there isn't a better time to recognize those advancements.
Get to know the 2021 TECTERRA Award Short-List finalists:

Symroc has developed an innovative, cost-effective ultrawide broadband vibration sensing system that includes sensor hardware, connectivity, and data service, to provide asset monitoring, preventative maintenance, and disaster prevention service, based on patented IoT vibration sensing technology.
AeroLab Technology brings value, safety, savings, and performance to many industries. The environment affects human performance, weather conditions will impact bicycle aerodynamics and stability in similar ways to the unsteady aerodynamics of autonomous vehicles, wind turbines, and more. AeroLab accomplishes this through the seamless integration of real-time sensors and proprietary learning algorithms.
OpenHouse.ai integrates geospatial technology into the home building industry, delivering insights in real-time. This real-time data offers home builders a customizable heatmap that delivers insights into any geographic region of their market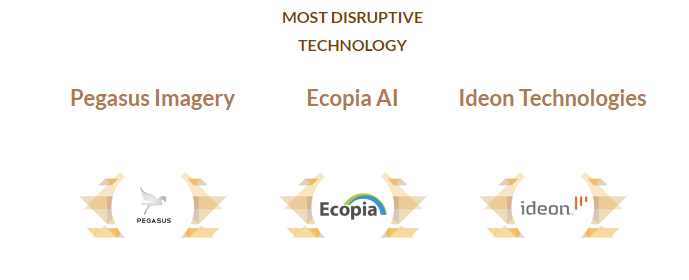 Pegasus Imagery has impacted the Canadian geospatial community by developing Canada's leading DAA software to support changes in Transport Canada's regulations for Unmanned Beyond Visual Line of Sight (BVLOS).
Ecopia uses AI to extract large-scale, high-accuracy geospatial data, and insights from high-resolution imagery producing HD Vector Maps. These maps form a digital representation of reality and are embedded into mission-critical applications worldwide. Ecopia's products and solutions are trusted by government agencies, businesses, and nonprofit organizations.
Ideon's Canadian-made technology is transforming subsurface discovery by providing x-ray-like visibility up to 1 km deep; accelerating the global transition to low-impact mining for critical mineral recovery, and helping to reduce the environmental impact of one of the world's most traditional industries.
Stephen Achal
Stephen Achal, CEO and CSO of 4pi Labs, has 30+ years of work on remote sensing innovations. Some of his innovations include patented and state-of-the-art UV, VNIR, SWIR, MWIR, and LWIR hyperspectral and multispectral mapping systems and image/data analysis algorithms.
Gary Zhang
Gary Zhang is the founder of MRF Geosystems Corporation, Pham Geomatics Solutions Inc., and Crowd Security Inc. Over the last 29 years, Gary Zhang has trained more than 100 GIS Developers and Analysts who have contributed to the adoption of geospatial technologies in many organizations in Canada.
Will Cadell
Will Cadell, GEO of SparkGeo, has an immerse presence within the Canadian geospatial community. He continually works to foster relationships with competitors (Canadian and abroad) because he understands the geospatial market and concurrently understands the amount of geospatial talent available in Canada.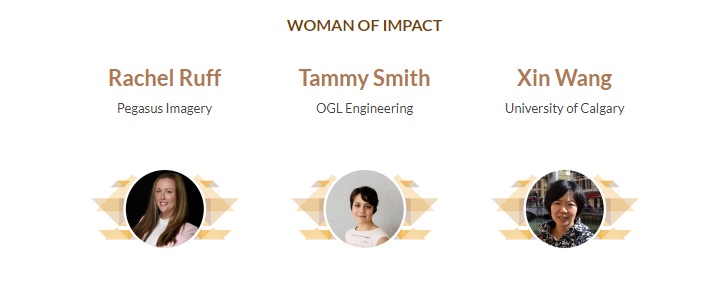 Rachel Ruff
Rachel Ruff, VP of Finance for Pegasus Imagery, has impacted the Canadian geospatial community by aligning innovation with customers' needs. Rachel's leadership is helping commercialize beyond visual line of sight software for autonomous aircraft. This technology unlocks commercial application at scale, positioning Alberta as a global leader in this emerging sector.
Tammy Smith
Tammy Smith, CEO of OGL Engineering, has impacted the Canadian geospatial community by advancing and upholding the highest professional standards in geomatics engineering. Tammy's positive impact through her work and leadership of OGL Engineering Ltd. has had an impact on both the Canadian geomatics engineering industry and the Canadian industry in general.
Xin Wang
Xin Wang, Professor in the Department of Geomatics Engineering at the University of Calgary, has impacted the Canadian geospatial community by her excellence in high-quality geospatial research and development. As an expert in Spatio-temporal data mining, geospatial AI, location and routing recommendation systems, Xin has proposed and developed geospatial data mining methods and systems to solve problems in the transportation, healthcare, environment, and energy sectors by extracting insightful knowledge from big spatiotemporal data to provide informative guidance to engineering practices.

Blackline Safety provides wearable, GPS-enabled safety devices for workers in high-risk situations (alone, or in potentially toxic environments.) Armed with cellular and satellite connectivity, their technology ensures help is never too far away.
Samdesk is a global disruption monitoring tool that delivers real-time crisis alerts powered by AI. samdesk makes sense of the world's most valuable real-time data sources with the purpose to create a safer world. Their platform is an advanced real-time information engine, that gives eyes and ears on the ground as a crisis unfolds.
Launched in 2018 and headquartered at Villeneuve Airport, Pegasus develops advanced unmanned aircraft and sensor systems to deliver autonomous data collection at a scale that is creating disruption in the aviation sector for industry and government operations.