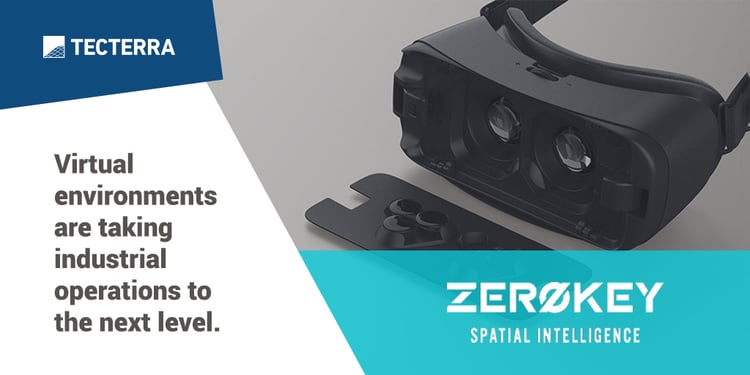 Calgary-based ZeroKey has developed a transformational IoT sensor technology that provides wide-area, real-time, and millimetre-level 3D tracking across large spaces and buildings.

Calgary-based ZeroKey has developed a transformational IoT sensor technology that provides wide-area, real-time, and millimetre-level 3D tracking across large spaces and buildings.

Matt Lowe, the company's co-founder and CEO, says that essentially ZeroKey will track items in 3D space to very high accuracy - that accuracy is up to one millimetre.

"you can imagine any sort of building, whether it's a shopping centre, a factory, distribution centre, or warehouse, it doesn't matter, you can deploy our solution and we can track end to end in that facility to one millimetre accuracy. You could track every product in your warehouse. You could track your personnel. And then using that information you can enable data driven industry 4.0 solutions to improve efficiency, optimization, and make your processes more agile," says Lowe.

Industry 4.0 refers to the next generation of manufacturing technology, particularly equipment and processes that rely on the internet of things, cloud computing, and artificial intelligence.

"Our technology gives you a way to digitize traditional manual processes that were previously invisible to the digital domain. Now you can incorporate all of that information and optimize the process with a data driven approach."

ZeroKey was founded in 2016 by Lowe and co-founder Hugh McMillan who came from the oil and gas industry. McMillan is currently the company's chief operating officer.

"We did a huge amount of R&D (research and development). We've got a number of PhDs on staff who have generated 18 patents at this point. We focused on a lot of R&D initially and now we have been working on commercializing for the last 12 months or so," says Lowe. "So we're just getting into the market right now.

"The growth has been amazing, especially in the last 12 months . . . The nice thing is this type of technology has brought new applications to manufacturing and industrial processes in general. A prime example is supply chain management. In that sense you're talking about potentially every company that produces a tangible product benefiting from this technology, so the scale is a little mind-boggling."

ZeroKey also has a sales office based in the San Francisco Bay area.

"We're just under 30 employees now. We're rapidly growing. About 14 months ago we were around five employees. Now we're projecting to be at about 60 employees by the end of 2019."

ZeroKey's Big Room product family is designed specifically for industrial applications and has the ability to track hundreds of thousands of sensors simultaneously, across an entire building, factory, or distribution centre, to the millimeter. That has never been possible before.

Ultra low-power sensors are fueled by a single coin-cell battery. Other options are available to suit a variety of applications and needs.

Lowe says the company works across a number of industries because the industry 4.0 umbrella is quite wide.

"One of the big sectors for us is actually the automotive manufacturing industry. For automotive manufacturing the bottom line comes down to how efficiently they can produce a vehicle. So if they can reduce the assembly costs of a vehicle a little bit that is straight profit," he says. "And of course the scale of automotive manufacturing is huge. One of our clients produces about 3,000 cars a day which is pretty crazy when you think about what goes into a car.

"Using our technology on the assembly line or in the manufacturing process in general gives you the ability to track people as they're doing the assembly process and that allows you to do a number of different things. The first thing is catch mistakes as they happen instead of 10 steps down the road when it might be too late or very expensive to correct that mistake."

In this case, some of the people being tracked wear a wristband or a wearable technology product that monitors their activity in full 3D in real time at millimeter level accuracy.

"At the same time, we also provide an actionable data source from that process. Traditionally you have managers that stand on the assembly line with a clipboard and a stopwatch monitoring and measuring the performance of these people. Now that can be done digitally using our tracking technology," says Lowe.

The company's big markets today are Europe and the United States but it also does a fair amount of business around Asia, particularly in Japan and South Korea.

"The interesting thing about industry 4.0 is that it touches a lot of different sectors. Not only that but those types of problems are in areas you'd never expect. We have a lot of clients that are interested in virtual reality for training and stuff like that. Our technology allows them to incorporate all sorts of assets into the virtual environment and bring their virtual reality simulation to the next level," adds Lowe.