Former rodeo athlete Dusty Lavalley has developed a unique and innovative online platform that connects truckers across North America with people who want to ship heavy equipment and small freight.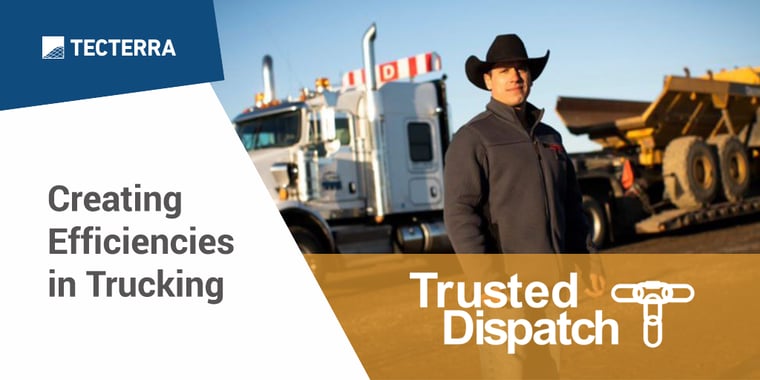 Lavalley, who is CEO and President of Trusted Dispatch which is based in Calgary, says the company is an online, automated shipping system.
"It's an interesting story. I'm the farm kid. I'm the rodeo champion that is now downtown Calgary wearing a suit and running a tech business. Pretty unusual at both ends of the spectrum," says Lavalley, who during his rodeo career competed as a bareback rider. He grew up in a little community called Bezanson which is just outside of Grande Prairie, Alberta.
"It is a self-help system. If the shipper needs something moved, such as heavy equipment, excavators, dozers, combines, tractors, they don't have to call anybody, they don't have to go searching. They can jump onto our online system, indicate where it has to be picked up and dropped off, weight and dimensions of their load, and the system is equipped with intelligent algorithm so it will compute and display the shipping cost instantly."
Lavalley says the whole business model, and the way algorithms are built, is focused on connecting loads with trucks that are already going in a certain direction but are empty.
"It's very common that these trucks are going to a job or from a job empty with no load on the trailer and at times they're going up to 3,000 kilometres with nothing. And you can just about guarantee that there's somebody out there that needs something hauled along that path somewhere. So we're connecting loads with trucks that are going empty," he says.
The company first started in January 2015. Today, there are eight people employed by Trusted Dispatch.
Lavalley says the platform can save shippers with a reduced rate and it is also helping drivers earn extra revenue instead of travelling empty.
"They can go down the path of reducing greenhouse gas emissions and running more efficiently. Less designated trucks on the highways - so we've got safer roads. There's many benefits to it but the biggest thing is that it's just easy to use," says Lavalley.
"I have a farming background and I built this thing for someone doesn't like technology."
When he first opened the business there was a different business model, but the company did what Lavalley describes as a "massive pivot" about one year in. Lavalley was in tune with the industry and shippers and listened to what was needed out in the market. It became obvious to him very quickly that there was a need - a massive problem - involving all these trucks in North America travelling empty a great deal of the time.
It was an inefficient way to operate and Lavalley recognized right away that there are thousands of shippers out there that need something shipped and they didn't have an obvious solution.
The company's reach is currently across North America.
Lavalley says the business went from being "massively amateur and thinking that we were doing good" at the beginning to where it is now. "It blows my mind every day where we are now. The level of professionalism and the people that I've got on my team. Every day is a real pleasure. It just amazes me when I kind of step back and look what we've done and where we're going. It's really quite something," says Lavalley.
So where is Trusted Dispatch going? What's the vision for it?
"Globally. We want to go global for sure. We see there's a massive need for it. Some people are not aware of the market size and the industry out there. But it's huge. You're into a trillion-dollar industry out there. It's the fifth largest in the world. Every country has big, heavy equipment moving around and they have the same inefficiency of these trucks travelling empty with nothing on the trailer," says Lavalley.
"Our initial goal is to get very aggressive in North America. So far we've been doing just amateur marketing in Alberta and amazingly enough it's got us a great reach across North America so the word of mouth is spreading. But we're just working with some agencies and doing a lot of tiny experiments trying to look for secret sauces that will allow us to reach our audience the most effective way possible."