Written by: David Getzlaf from Hexagon's Autonomy & Positioning Division
Perhaps you've reached a growth ceiling and need help scaling your business to the next level. Or you want to find a good home for your company that will continue with your vision rather than sell to a private equity company that may take it in a different direction. Or perhaps you're tired of the entrepreneurial grind and simply looking for more stability for yourself and your employees.
Corporate strategic buyers can help with all of these things, but there are a few things they'll be looking for. When discussing the future of your business with a buyer, here are some ideas to help your company shine.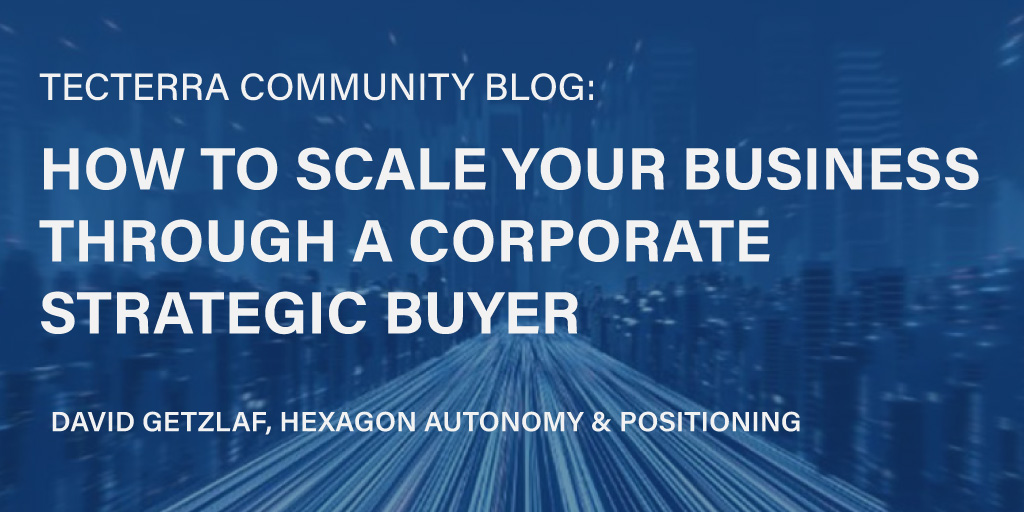 Tell a compelling, simple story
Corporate buyers, first and foremost, are looking to buy capabilities that further their core strategy. Start by communicating how your technology, solution or customers aligns with that buyer's strategy and helps accomplish their goals. Your ability to tell this story to a potential buyer gives credibility to how you've shared the same story with potential customers. And always remember: a sale is a series of conversations. Ask the potential buyer what they're looking for from your company and begin brainstorming together about what a combined company could look like. Explore how, together, you'll be stronger and more successful. A good fit for you and the buyer will mean that your core business won't need to be adjusted to be successful long-term.
Have a path to profitability
While private equity funds may look for a business to restructure and flip for profit, corporate strategic buyers look for collaboration opportunities. Buyers want to improve their own business while also providing yours with what is needed to be successful, from market access and capital to manufacturing expertise and resources. With few exceptions, a corporate buyer is looking for a business with a clear path to profitability on a standalone basis. This path will show that your company is a natural next step towards helping the P&L. Your compelling story will be necessary to explain how your early-stage company will achieve above-market growth after the buyer's investment.
Let buyers know you're considering a sale
The most important thing you can do to help sell your business is: to let buyers know it's an option! Each company and deal is unique, so the best way to learn if a buyer is a good potential fit is to start a conversation. Experienced corporate buyers will walk you through the particulars of their process, acting as a guide to help you through. But the conversation has to start somewhere. So, if you're considering a sale, reach out to a potential buyer in person or on LinkedIn (look for job titles that include "strategy," "corporate development," or "business development" as a start). Reach out, let the buyer know you're considering a sale and that you'd like to start a conversation. Finding great companies is the hardest part of a corporate Merger & Acquisitions (M&A) professional's job, so they will always be happy for an introduction to learn more about your company.
When you start talking with a corporate strategic buyer, you may realize that M&A isn't the best choice for your company. But, that conversation is the first step to discovering how to scale your business, whether through M&A or a partnership. A history of good collaboration with a buyer is the best evidence to confirm whether a potential sale is a good fit for the future.
With over six years in business strategy and over twelve years in the technology sector, my passion for supporting and mentoring tech startups has only grown. Feel free to connect with me on LinkedIn if you'd like to continue the conversation around scaling your business.