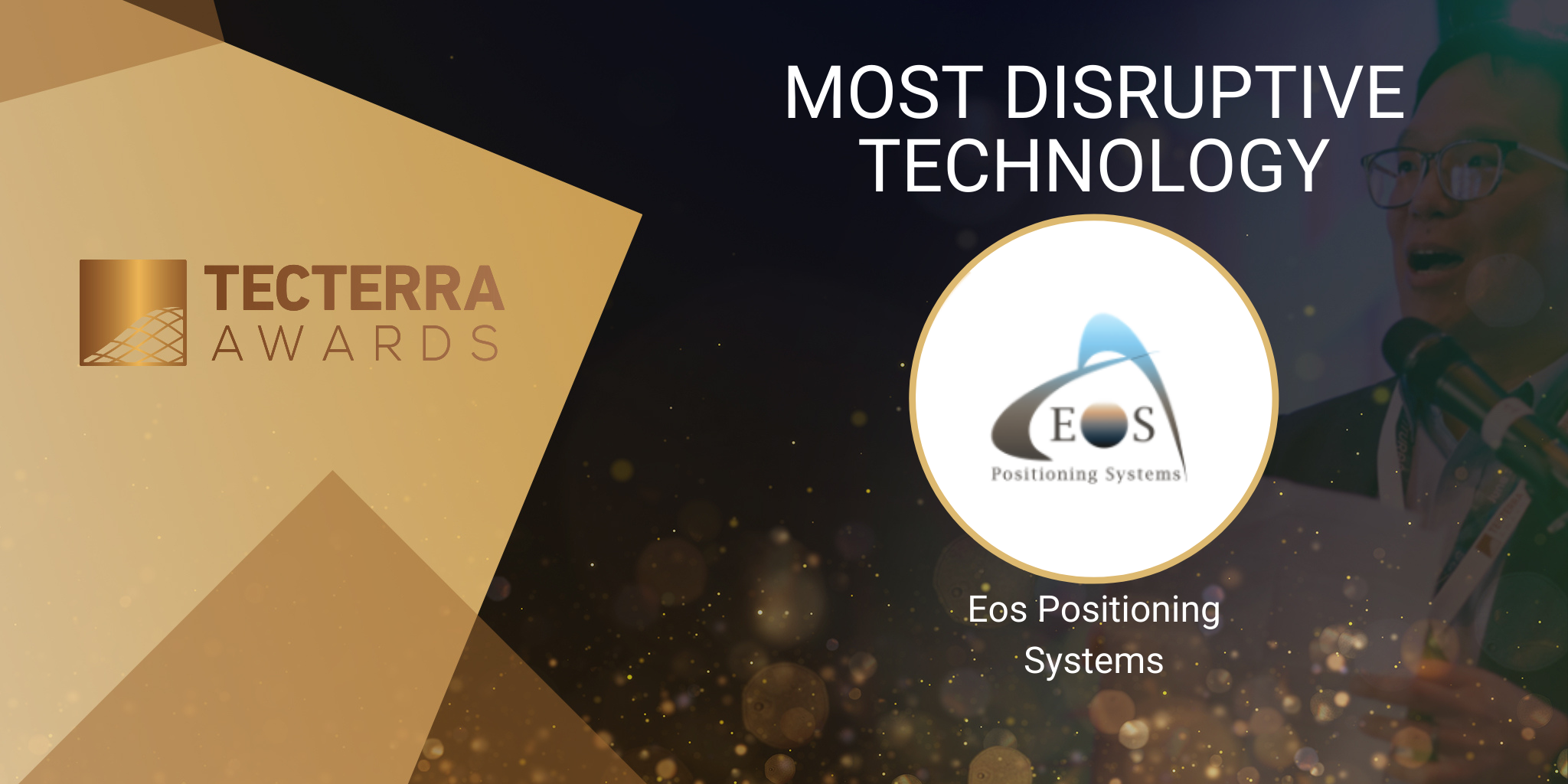 Quebec-based Eos Positioning Systems has built the world's first device-agnostic Bluetooth® GPS receiver capable of providing submeter, subfoot, and centimeter accuracy to any device, including iPad and iPhone.
The company is this year's winner in the Most Disruptive Technology category for the TECTERRA Awards which were developed to create a platform to celebrate the leaders and technological disruptions in geospatial.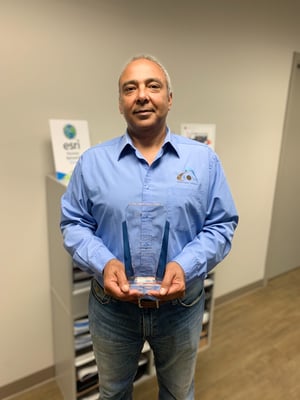 Jean-Yves Lauture, President and CTO of Eos Positioning Systems, Inc., said the company makes high-accuracy location easy, affordable and profitable on any device.
"In Greek mythology, Eos is the goddess of dawn; her name means 'a new day, a new beginning,'" said Lauture, of the company which began in February 2014.
"We manufacture high accuracy GNSS (Global Navigation Satellite System) receivers mainly for the GIS (Geographic Information System) and mapping industry. We basically bring high-accuracy GNSS locations in the customers' own device whether it's a consumer cellphone, tablet, or whatever computer he wants to use."
Before the company began, Lauture was working for 22 years in the same sector. He began developing GNSS products in 2001. Shortly thereafter, he came out with the first Bluetooth receiver on the market at that time "when nobody knew what Bluetooth meant."
"It was pioneering, but the market was not ready at that time because people were used to all-in-one GNSS receivers that integrated the GPS, the computer (at that time Windows Pocket PC / Windows Mobile) and a proprietary software into one handheld device. With the fast evolution of the computers and their operating systems, these expensive all-in-one devices were usually obsolete by the time the customers would by them," he said. "I knew there could be something better."
"So we needed to find a way to make the field data collection system modular: keep the three components (GPS, computer, and software) and allow the customers to evolve with the computer and the software portion so that their investments last much longer. That's how I started back in those years, a little bit ahead of 'times'. Twenty years ago, things were much different than today and it took a bit more than a decade for the market to finally make a standard of the concept."
Lauture said Eos's clients are basically anyone who has a need for high-accuracy positioning in GIS mapping. The customers are mainly utilities (water, gas, electric, telecommunications), agriculture, environmental, forestry, and municipalities.
"Our customers are all mixed. It's varied, which keeps it fun," he said. "People all over the world are using Arrow GNSS receivers to discover buried archaeology, map vineyards, save treescapes from invasive species, keep up with asset management regulations, and more," he said. "So these are the types of things we do, find ways to support our customers no matter what interesting work they are doing in the field. We can help with everything that requires a high-accuracy positioning for mapping."
The company's dream from the beginning was to propel Bluetooth® GPS / GNSS technology into the next generation. Today, Eos manufactures the world's leading GPS / GNSS receiver for the GIS market, the Arrow Series®. The Arrow Series includes the Arrow 200, the world's first Apple-approved iOS RTK GNSS receiver capable of real-time centimeter accuracy.
Eos also maintains partnerships with the world's leading innovators in related mapping technology, such as Esri. This includes field app partners in GIS and mapping, whose mobile applications provide a variety of options based on user needs. This also includes a variety of hardware partners so that customers can pick the mobile device that best suits their budget and usability needs. Eos also features a variety of solutions popular among its users, such as laser mapping, underground asset mapping, and more.
Eos has seen explosive growth in the past few years according to Lauture. It took patience, tenacity, and a strong belief in a vision that this particular innovation could one day serve and profit the customers.